Article Written by James Field, Daniel Sander & Jonathan Winton
---
LONDON – The UK's Civil Aviation Administration (CAA) has confirmed that overflights of Boeing 737MAX aircraft will now be banned from the UK in response to Ethiopian Airlines Flight 302 that crashed last week.

This comes in response to the Chinese government and many other carriers globally grounding the aircraft over such safety concerns.

A spokesperson for the institution commented on this, stating that this directive will remain in place until further notice.

"Our thoughts go out to everyone affected by the tragic incident in Ethiopia on Sunday."
"The UK Civil Aviation Authority has been closely monitoring the situation, however, as we do not currently have sufficient information from the flight data recorder we have, as a precautionary measure, issued instructions to stop any commercial passenger flights from any operator arriving, departing or overflying UK airspace."
"We remain in close contact with the European Aviation Safety Agency (EASA) and industry regulators globally."
There are currently five 737MAXs registered, with a sixth yet to be delivered. TUI Airways is the only UK carrier registered with these aircraft so far and have grounded the aircraft since.
The group also provided a statement on the grounding of its 737MAX8 aircraft.
"This afternoon, the Civil Aviation Authority (CAA) in the UK has ordered British carriers to ground all Boeing 737 MAX 8 flights. TUI is following this directive."

"TUI will also discontinue all Boeing 737 MAX 8 flights across all airlines of the TUI Group, for the time being, to allow for more time to discuss the matter with the respective authorities and the manufacturer. TUI will inform customers booked from tomorrow and respective flights about the alternative."
Boeing has already taken some steps to solve what is an issue with the MCAS systems, which has come into disrepute a lot, especially since the crash of Lion Air Flight 610.

Whilst it is not confirmed, many analysts are suggesting that MCAS has come into effect again in the case of Ethiopian Airlines Flight 302.

August last year saw Boeing lengthening the landing gear of the MAX10 variant, due to go into commercial service in 2020, by 9.5 inches, which will move the engines back to the same point as the likes of the -800NG variants in order to remove MCAS from the design process.

Norwegian released in a statement ''Following the decision by the relevant aviation regulatory bodies to temporarily suspend operations of Boeing 737 MAX, Norwegian will not operate any flights with this aircraft type until further notice. We remain in close dialogue with the aviation authorities and Boeing and follow their instructions and recommendations."
"Norwegian has more than 110 Boeing 737–800 aircraft in its fleet, which is not affected by this temporary suspension."
"We would like to apologize to customers who will be affected by temporary cancellations and delays, but the safety and security of our customers and colleagues will never be compromised, and once authorities advise ceasing operations we will of course comply.''

Norwegian's acting Chief Operating Officer Tomas Hesthammer stated: "In response to the temporary suspension of Being 737 MAX operations by multiple aviation authorities we have taken the decision to not operate flights using this aircraft type until advised otherwise by the relevant aviation authorities. We would like to apologize to customers for any inconvenience caused, however, safety will always remain our top priority."

Data from FlightRadar24 mapping both flights last moments was eerily similar in how both aircraft began an uncontrollable descent so soon after departure.

Both accidents raise serious questions regarding aircraft safety as neither crew was in a position after departure to return safely.
As of 14:45 GMT Icelandair has also announced that it will ground it's Boeing 737 MAX 8 fleet. TUI Group has announced in the past hour that it will ground all 737 MAX 8 aircraft.

Icelandair also provided words and also chose to suspend MAX8 services.

"Icelandair group has decided to temporarily suspend the operation of it's three Boeing 737 MAX 8 aircraft until further notice. The Company will follow any further developments closely, working with local, European and American authorities regarding next steps. Based on the available information, Icelandair's thorough safety processes and the training of its crew, the company is confident in the safety of the Boeing 737 MAX 8 aircraft. In the short term, this decision will not have an material impact on the Company's operations, since it only affects 3 passenger aircraft of the total fleet of 33, which creates flexibility to respond in the coming weeks."

In the United States, more pressure for the 737 MAX grounding is intensifying, more so from American Airlines.

Commenting on the incident was The Association of Professional Flight Attendants (APFA) National President Lori Bassani who expressed concern over the incident.

"Our Flight Attendants are very concerned with the recent Ethiopian Airlines flight 302 crash, which has raised safety concerns with the 737 MAX 8. Many respected global carriers are grounding the planes. We are calling on our CEO Doug Parker to strongly consider grounding these planes until a thorough investigation can be performed. While we cannot draw premature conclusions, it is critical to work with manufacturers, regulators and airlines to take steps to address our important safety concerns. The safety of our crews and passengers is paramount. Our flight attendants will not be forced to fly if they feel unsafe. Our condolences go out to the family and loved ones of crew and passengers who perished aboard Ethiopian Airlines Flight 302 from Addis Ababa, Ethiopia to Nairobi, Kenya."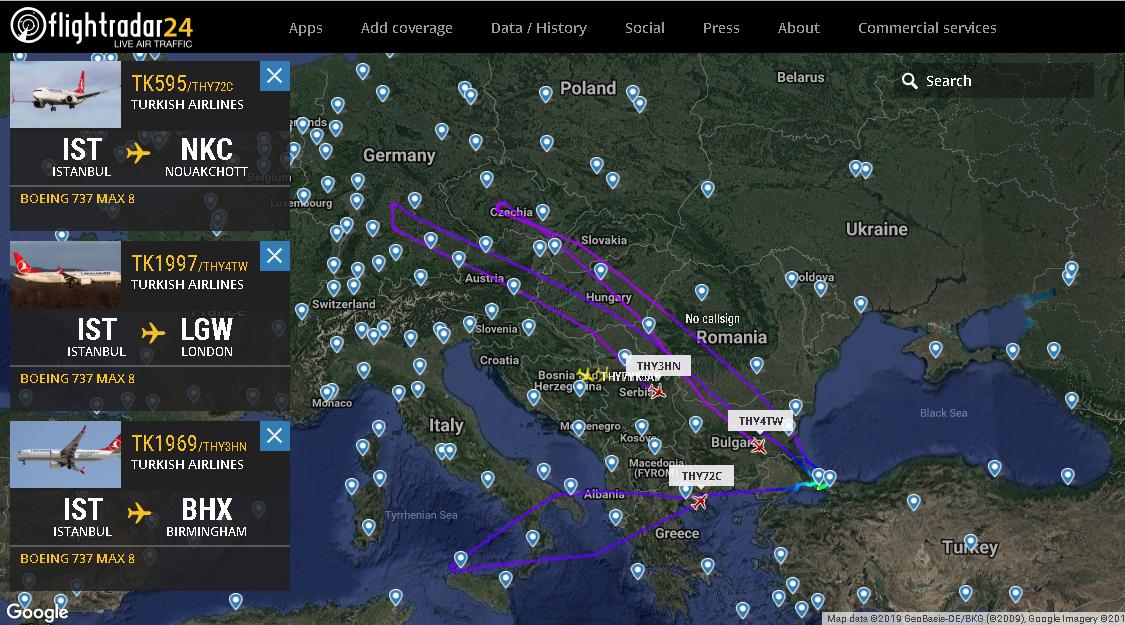 Turkish Airlines have also taken the decision to suspend all Boeing 737 MAX flights with the majority of their airborne aircraft returning to Istanbul Ataturk Airport.
Boeing and the FAA have responded to today's actions.
Boeing started by saying: "Safety is Boeing's number one priority and we have full confidence in the safety of the 737 MAX. We understand that regulatory agencies and customers have made decisions that they believe are most appropriate for their home markets."
"We'll continue to engage with them to ensure they have the information needed to have confidence in operating their fleets. The United States Federal Aviation Administration is not mandating any further action at this time, and based on the information currently available, we do not have any basis to issue new guidance to operators."
The FAA were clear in the assumptions being made with Lion Air Flight 610, which went down five months ago.
"External reports are drawing similarities between this accident and the Lion Air Flight 610 accident on October 29, 2018. However, this investigation has just begun and to date, we have not been provided data to draw any conclusions or take any actions. "
The FAA also added that activities regarding airworthiness directives after this incident were completed by Boeing.
However, design changes on the likes of MCAS and flight control system enhancements will not be completed until April 2019.
There are currently 59 operators worldwide of the 737MAX, with 387 units in service.
LOT Airlines, Air Italy and Turkish Airlines have now all grounded their Boeing 737 MAX 8 aircraft.

UPDATE: The European Union Aviation Safety Authority (EASA) has announced it will suspend Boeing 737 MAX 8 & 9 operations in Europe, following the majority of EU airlines grounding the aircraft. Incredible pressure is now on the Federal Aviation Authority (FAA) to follow suit.

The EASA has released a statement in regards to the suspension.

"Following the tragic accident of Ethiopian Airlines flight ET302 involving a Boeing 737 MAX 8 the European Union Aviation Safety Authority (EASA) is taking every step necessary to ensure the safety of passengers.

"As a precautionary measure, EASA has published today an Airworthiness Directive, effective as of 19:00 UTC, suspending all flight operations of all Boeing Model 737-8 MAX and 737-9 MAX aeroplanes in Europe. In addition EASA has published a Safety Directive, effective as of 19:00 UTC, suspending all commercial flights performed by third-country operators into, within or out of the EU of the above mentioned models."

"The accident investigation is led by the Ethiopian Authorities with the support of the National Transportation Safety Board, as the aircraft was designed and built in the United States. EASA has offered their assistance in supporting the accident investigation."

"EASA is continuously analysing the data as it becomes available. The accident investigation is currently ongoing, and it is too early to draw any conclusions as to the cause of the accident."
UPDATE: India has now announced it will suspend Boeing 737 MAX operations within the country. The pressure is building on the FAA to act.

India's Main aviation body, Ministry of Civil Aviation have released a statement in response to the suspension of 737 MAX operations.

"DGCA has taken the decision to ground the Boeing 737-MAX planes immediately. These planes will be grounded till appropriate modifications and safety measures are undertaken to ensure their safe operations"

"As always, passenger safety remains our top priority. We continue to consult closely with regulators around the world, airlines, and aircraft manufacturers to ensure passenger safety."

At the time of writing, airlines still operating the 737 MAX are mainly North American airlines. These airlines are United (14), American Airlines (24) , Westjet (13), Southwest (35), Air Canada (24) and Sunwings (4). This represents roughly ⅓ of the global 737 MAX fleet.

The United Arab Emirates are also still allowing airlines to operate Boeing 737 MAX aircraft, the primary user of the type within the country ios LCC, FlyDubai, which operates 11 MAX 8s and 3 MAX 9s.
UPDATE: The UAE has now announced it will suspend all 737 MAX operations in/out of the country. This affects FlyDubai, the only airline in the country to operate the type. Their fleet consists of 11 MAX 8s and 3 MAX 9s.

The UAE's General Civil Aviation Authority (GCAA) has released a statement.

"Following the Ethiopian Airways crash involving a Boeing 737-8 MAX, the UAE General Civil Aviation Authority issued a Safety Decision banning the operation of all Boeing 737 MAX models in the UAE airspace with effect from 13 March 2019, 00:01 UTC Time until further notice."

"The ban is a precautionary measure aimed at protecting public safety in the air and on the ground."

"The GCAA will continue monitoring and re-assessing the situation as more information is obtained about the accident."
UPDATE: The FAA has responded to calls for the grounding. It has said that it will not be grounding the aircraft type.
It argued that its review "shows no systemic performance issues and provides no basis to order grounding for aircraft".
It did say that "if any issues affecting the continued airworthiness of the aircraft are identified, the FAA will take immediate and appropriate action".
Another issue that will arise out of this is the political implications ongoing. It has been reported that President Donald Trump met with Boeing CEO Dennis Muilenburg encouraging him not to ground the jet.
It will be interesting to see what the results of the recent crash will produce, but authorities are yet to decide where overseas the black box and voice recorders will be transported to.